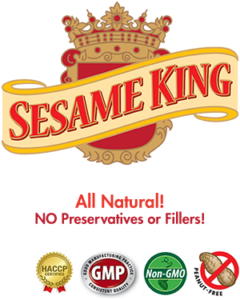 Tahini is a sesame paste made from hulled and roasted sesame seeds. Our High Quality Tahini paste is made out of 100% pure ground sesame seeds. The sesame seeds are sifted, cleaned, roasted and ground to perfection in our premises using new state of the art machinery. Our manufacturing process meets and exceeds all FDA standards. Currently we are the only Tahini manufacturer to pasteurize our product. Our precise Computer Controlled Pasteurization Process (CCPP) ensures a clean and great tasting Tahini paste!
Sesame King is the leading brand of 100% pure, ground tahini pastes, made from the finest sesame seeds. Each Sesame King tahini is all-natural, with a subtle, delightful aroma, rich with texture and delicious taste.
*** We mechanically hull our sesame seeds, meaning no chemicals are used during our production process.
Tahini is the staple of Middle Eastern cooking, the tasty foundation of hummus, baba ghannoush, halvah, and dozens of delicious sauces and dressings.
It's also delicious on bread, right out of the jar, and perfect in your favorite recipe.
It has great health benefits, including being an excellent source of protein and also improving Stamina and Endurance to all muscles.